Dental Implants are restorative solutions most commonly used for replacing a missing tooth or multiple teeth. They can also be used to secure partial or complete dentures as well as used to help support dental bridges.
BENEFITS
Because dental implants are permanently placed, they are able to provide many unique benefits that alternative solutions may not be able to offer.
IMPROVE AND PROTECT NATURAL AESTHETICS:
When a tooth or multiple teeth is lost, the bone and gums that used to surround the area start to deteriorate and lose its firmness and structure. As the foundation of your smile weakens, so does your facial structure. When your gum and bone deteriorates, it causes the mouth and face to appear caved-in. However, by placing dental implants, it will help stimulate growth in the bone and gums once again, preventing deterioration from occurring. Also, dental implants can prevent adjacent teeth from shifting or moving toward empty spaces in the mouth.
RESTORING FUNCTIONALITY:
With dental implants, you no longer have to experience any discomfort or frustration when speaking, laughing or eating. They provide a strong, solid foundation that feel and look very natural. Dental implants are built to last and can make even make the most natural daily actions seem "natural" once again.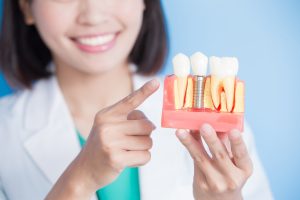 ENHANCE YOUR SMILE:
Dental implants are the next best thing to natural teeth. With the design and secure foundation that dental implants provide, no one, not even you, will be able to distinguish your implant apart from your natural teeth. With a fully restored smile, you can enjoy the boost of confidence dental implants can provide.
PROCEDURE
Dental implants can be performed in office and requires two phases of treatment. The first phase involves surgically bonding the implant in place and the second phase involves attaching the artificial tooth or teeth to the implant. To ensure comfort, local anesthesia will be provided. The entire procedure will generally take six to eight months to complete, but during this time, you will notice minimal disruption in your daily life.
CARING FOR YOUR IMPLANTS
Care for your dental implants just as you would care for your natural teeth. Be sure to schedule regular checkups and continue proper brushing and flossing techniques to prevent formation of diseases. With proper care, your dental implants will last you many years. Dr.Nelatoor is very skilled in providing dental implants .After examining your mouth and reviewing your medical and dental history  she would be able to determine if dental implants are the right treatment method for you. For more information on dental implants or if you wish to schedule a consultation, please contact us.
MINI IMPLANT
Mini implants are used in situations when the bone available does not allow for placement of a larger diameter implant Their applications are somewhat more limited than a normal size implants, but in patients with insufficient bone to do regular implants, it can be a real life saver. One of the main advantages to a mini implant is that they can have a tooth or denture attached to them the same day. The main way I use mini implants is to stabilize existing dentures.
PATIENT EXPERIENCE
In one visit , I was able to place 6 mini implants in the upper arch for a patient and reline his existing denture to fit and lock onto the mini implants. He was able to leave the office with a rock-solid upper denture. I was even able to remove the part of the denture that covered the palate so he could be more comfortable and taste his food better.
He was very happy and has referred me many patients since.
MINI IMPLANTS VS TRADITIONAL DENTAL IMPLANTS
In comparison to the traditional dental implant, mini dental implants are effective alternatives. Due to the small size, mini dental implants can be used to restore chipped or missing teeth that are in small or tight-fitting locations. Mini dental implants are ideal when replacing pre-molars, frontal teeth, or small teeth.
Mini dental implants requires a simple procedure that features the use of a surgical stent for the placement of the mini implant and the restoration(s) in the same appointment. This happens with minimal patient discomfort in less than an hour of chair-time in most cases.
Dr.Nelatoor and team are very skilled in providing dental implants and would be able to help you in determining if mini dental implants are right for you. For more information or if you wish to schedule a consultation, please be sure to contact us.